If your company has launched a digital transformation project or is getting ready to start one, you may be interested to know that recent studies conducted by McKinsey, Everest Group, and IDC found that up to 75% of these initiatives fail to deliver on their projected business value. The reasons for failures vary, but a common theme is budget overruns.
One way companies can improve their odds of success is by taking a close look at their investment—and estimated return on investment (ROI)—both prior to and during digital transformation. As the saying goes, you should inspect what you expect. By interrogating costs and value on an ongoing basis, a company can pause a project that is not meeting business objectives and make the adjustments needed to ensure that it does.
Reducing costs of deploying and managing Apache Kafka®
We've seen how Confluent Cloud helps our customers reduce the cost of running self-managed Kafka by up to 60%. And we've seen how Confluent Cloud, by reducing management overhead for Kafka infrastructure, can shorten development cycles and enable customers to reduce time to market for event-driven applications from years to a matter of months.
To help you quantify the value of choosing Confluent Cloud, we are offering a free-of-charge total cost of ownership (TCO) assessment. Our goal in supporting this business value analysis is to help you identify how to reduce costs, time, and effort in deploying and managing Kafka across your enterprise.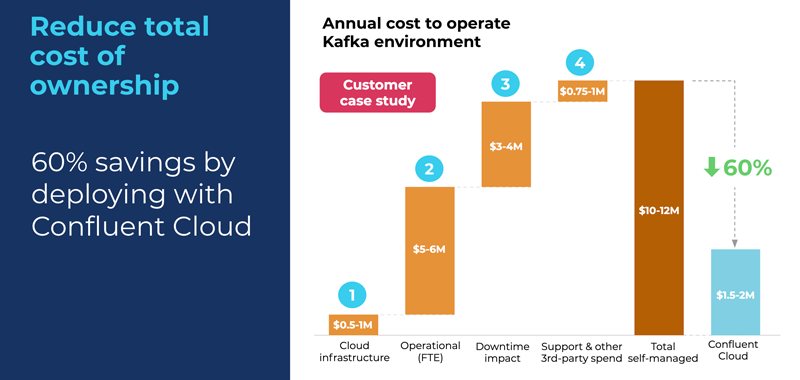 Measuring value is more than reviewing cost takeout
During a TCO comparison exercise, we can help you work through typical Kafka setup and management costs and how a fully managed version of Confluent Cloud would compare. This is a relatively straightforward task requiring just a few inputs and assumptions.
But to really understand the business value of Confluent Cloud, we also need to understand:
How accelerated time to market of the applications built on Kafka infrastructure impact the business
What it means to remove the operational burden of running Kafka—which frees up key resources to focus on higher-value initiatives
What improved agility and business responsiveness delivers, such as reacting to new business requirements, or scaling up or scaling down
The value of reduced downtime, reduced performance degradation, and improved security
And more…
To measure the business value of partnering with Confluent, we need to look beyond cost takeout alone. Since it can be difficult to attribute a quantified value amount to some of the areas listed above, we combine a quantified TCO argument with an unquantified, or intangible, ROI description of the additional value a fully managed service might deliver.
Assessing business value
When completing a business value analysis, it's important to keep two things in mind:
First, if the business value analysis is arcane, or riddled with wild assumptions or guesstimates, or if results are exaggerated or fabricated, the worth of the entire exercise is called into question. The end result simply will not hold water, which benefits no one. For this reason, we insist that all the variables and assumptions driving the process are provided by, or at least ratified by, the customer. Throughout the process, we aim for maximum transparency and to be as empirical as possible, while talking through real-world examples.
Second, much of the value of measuring business value comes from the process itself. During the exercise, we must be able to communicate freely, share information, and agree on assumptions and estimates. Effective analysis requires collaboration. This collaboration enables us to understand your challenges and objectives, and it enables you to more fully understand the value proposition of Confluent Cloud. We work to fully collaborate with our customers so that the final solution and business value estimates are trusted to be as accurate as possible.
By assessing business value and TCO at the start of your project, rather than at the end, you are setting your digital transformation initiative up for the greatest probability of success.
To learn more about how we help our customers understand and capture the full business value of running Kafka as a fully managed, cloud-native service, download our white paper on Measuring the Cost Effectiveness of Confluent Cloud and request a free personalized TCO assessment.
Further resources
Lyndon Hedderly leads the Business Value Consulting Team within Confluent. He has over 20 years of experience in the enterprise software industry, starting as a technologist and moving into IT strategy and enterprise transformations. Lyndon holds a Master of Science in neuroscience including neural networks & AI from Oxford University.